Private School Teachers' Experiences with Distance Education: Mixed Methods Research

Abstract views: 539 /

PDF downloads: 736
Keywords:
Distance education, private schools, branch teachers
Abstract
This study was carried out to understand and interpret the solutions produced by the teachers working in private schools by revealing the problems they faced in distance education. The research was in convergent mixed methods design with the data-transformation variant. As a sample, criterion sampling technique, which is one of the purposeful sampling methods used in qualitative and mixed methods research, was used. The population of the research was selected as a sample of 13 teachers who met the criteria and wanted to voluntarily participate in the study, among the secondary and high school teachers working at the Campus College within the borders of Antalya province in Muratpaşa District in the 2021-2022 education year.The data in the study were collected by individual interview technique. The interviews done with semi-structured interview forms for 30-45 minutes were recorded and in qualitative strand, the text data were subjected to theme, descriptive and content analysis, and the opinions were categorized under the top and sub-themes. In quantitative strand, after quatifying the qualitative findings based on themes, the frequency of the themes coded were analysed descriptively so as to determine whether it differed according to opinions of the teachers working in secondary school and high school. The results of the research included findings reflecting the views of teachers under the specified themes, and these findings provided clues about understanding the problems experienced by private school branch teachers in distance education, whether those problems differed in terms of types of schools and how to solve these problems.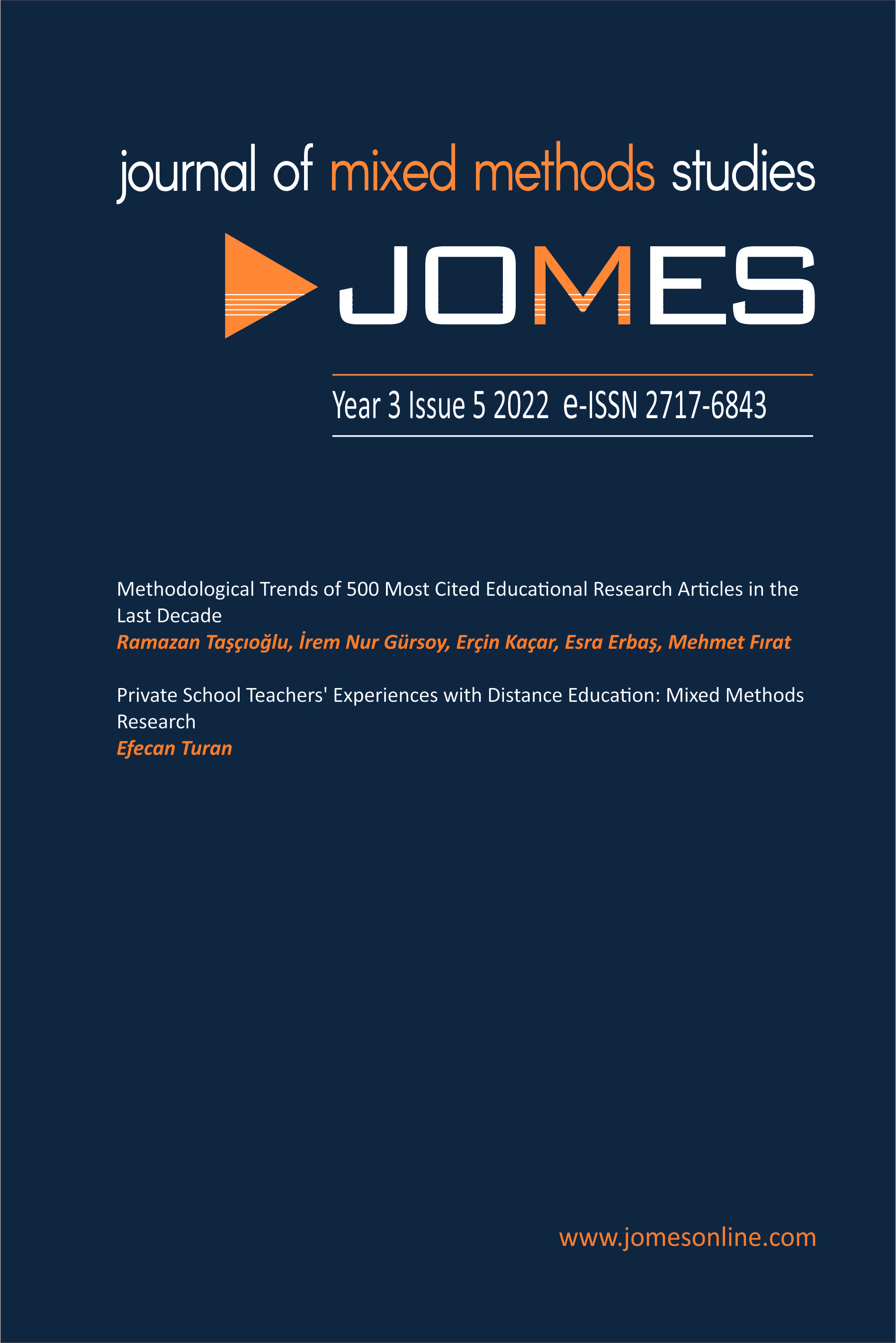 Downloads
How to Cite
Turan, E. (2022). Private School Teachers' Experiences with Distance Education: Mixed Methods Research. Journal of Mixed Methods Studies, (5). Retrieved from https://jomesonline.com/index.php/jomes/article/view/19
License
Copyright (c) 2022 Journal of Mixed Methods Studies
This work is licensed under a Creative Commons Attribution 4.0 International License.